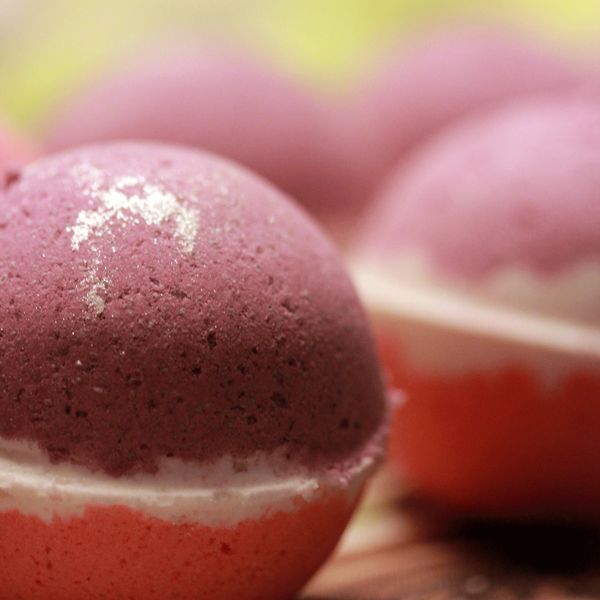 Our standard bath bombs are great for those that don't want to rinse off that great scent.  No SLS-A in these bombs so no itching if you don't rinse.  Just drop the bomb in your tub when it is 1/3 the way full.  Then relax and enjoy.  
Each bomb hand made to your specifications at the time you order so production and curing time takes 4-7 days.  
FY 2019 Fragrant Selection
CITRUSY SCENTS
Electric Lemonade Cocktail – Electric Lemonade Cocktail Oil is a fruity blend that is sweet and tart, with notes of mandarin orange and verbena infused with pumpkin, bergamot and granny smith apples! 
Exotic Grapefruit Sea Salt – Refreshing grapefruit with a little sea salt.
Fiji Dates & Lemon Peel - Plump, sweet dates blended with tart, explosive lemons. 
Mango Lime - A tropical burst of citrusy, zesty goodness! Top notes of violet and carnation with notes of citrus and sandalwood. 
Moroccan Argon (Our Version of OGX Shampoo) – A fun, fruity scent that is full of pear, apple, orange, and other zesty notes. Hints of floral, nutty almond and sweet musk.  
My Lil' Kumquat - Delicious, sweet and tangy. This fresh citrus is a refreshing surprise!  
Nectarine & White Ginger –  Citrusy oils blended with a little ginger spice.
Sea Island Grapefruit – A crisp and clean citrus experience. Tangy, tropical, heady, exotic grapefruit with a touch of sweetness.  
Tuscan Blood Orange - A zesty citrus blend of rich blood orange, tangy grapefruit and juicy mandarin infused with melon, ripe peach and delicate jasmine while subtle notes of white musk and precious woods base. 
CLEAN & REFRESHING SCENTS
Adriatic Fig – Exotic fig with top notes of bergamot and hints of fruits. Musk, woods and sweet notes create a fresh clean aroma.  
Barrier Reef – A watery, clean marine type with top notes of fresh, tangy fruit, heart notes of melon and rose with a clean watery base.  
Cactus Flower & Dewberry – (Currently out of stock) Succulent notes of cactus and pear nectar are layered with fresh fora and sweetened with agave sugar. 
Coral Reef - A citrus marine type; top notes of lemon and orange, middle notes of geranium, lily and spices with a woody, amber moss base.  
Cucumber Kiwi Cooler – Clean and refreshing, with fruity undertones.  
Driftwood & Sea Salt - citrus, mangos, orchids and lilies and finishes with a hit of salt soaked driftwood. Classic spa scent.  
Mermaid – Scents of mandarin, juicy melon, with a hint of apple; middle notes comprised of pineapple, coconut, violet and jasmine and driftwood, sugar and white musk.  
Mountain Stream – A floral, musky fragrance. Top notes of bergamot, cyclamen, melon and peach blossom mix with middle notes of rose, jasmine, white lily, gardenia, and violet over a woody, musky base note. 
Neroli & Shea Blossom – Zesty citrus and sweet amber blend makes a tropical clean aroma.  
New Zealand Spring (Our Version) - A fresh, clean blend of citrus and earthy notes. Green melon, lime, orange, and eucalyptus notes with an earthy base.  
Ocean - A clean scent of waved smacking the beach.  
True Blue - Indulge in a fresh and clean spa tropical experience with this Bath and Bodyworks type. (not distributed with Bath in Body works)
EARTHY/MUSKY
Agave Musk – Southwest agave infused with rose and peach, with a musky base. 
Blue Musk – Delicate and light, this musk is uniquely pleasing.
Dragon's Blood – An earthy blend of citrus and floral.  Dragon's Blood combines a mixture of fresh orange and grape, clove and rose with a woody, patchouli base.  
Egyptian Dragon – A warm blend of myrrh, dragons blood, patchouli; with notes of rose and jasmine, with base notes of woody musk. 
Honey & Shea Butter – Warm and creamy.  A very comforting blend for a cold night.
Musk – Precisely what you would expect Musk to smell like. 
Patchouli Essential Oil – No fragrances added.  Just organic Patchouli Essential Oil.
Sandalwood & Bourbon - A woody, amber-moss and spice masculine scent.
Sandalwood & Rose –Warm, earthy sandalwood blended with the sweet, sexy aroma of roses.  
Sandalwood & Patchouli - Sandalwood, orange blossom, floral notes in a patchouli base.  
Vanilla Musk - An inviting blend of warm vanilla, musk and jasmine with subtle woody undertones.
Vanilla Sandalwood – Earthy sandalwood and musk blended with the sweet scent of vanilla.  
FLORAL
Bali Spa - A soft watery blend of lemon and jasmine with a musky base. A perfect blend to relax to. 
Calla Lily - A white floral and sweet pea type with notes of melon, lily of the valley, rose, and violet. 
Gardenia – If you love the scent of Gardenias, you are going to love this.  
Half Dozen Roses – A fresh cut rose with fruity notes of pear, orange and apple mixed with the delicate softness of rose and gardenia.
Honeysuckle – Sweet, succulent honeysuckle
Japanese Cherry Blossom (Our Version of Bath and Body Works) – It is like standing outside of Kyoto temple in Japan.
Jasmine Frangipani – A tropical, exotic and sexy scent.  
Jungle Gardenia - A Gardenia blend of zesty, fresh orange notes that provide a twist to a bouquet of fresh flowers.
Lilac – Beautiful floral scent  
Neroli – The sweet scent of Italian orange blossoms; neroli, cinnamon, dill weed, eucalyptus, and orange. 
Night Blooming Jasmine - Green top notes, notes of jasmine, ylang-ylang and ­­rose with woody base notes.  
Pink Hibiscus (Our Version of Bath and Body Works) – Bold, sweet and floral; a slightly citrus bouquet of delicate tropical hibiscus petals.  
Plumeria – The sweet floral scent of Plumeria blossoms. 
Sweet Pea – A sweet, fruity, floral scent.; great for soaps and scrubs.  
Tuberose - Fruity citrus top notes with lily of the valley. A floral bouquet of tuberose, lilac, and orange blossom.  
Violet - Powdery notes create a beautiful violet type. A sophisticated scent with a woody vanilla base.  
FRUITY SCENTS
Apricot & Peach – A refreshing blend of apricot and peach with hints of pear, plum, and jasmine.  
Be Applicious (Our Version of DKNYs)- Fused with the fresh scent of country apples this fruity scent has tiny floral hints. Made up of apple, grapefruit, carnation, and violet notes. 
Be Berrylicious (Our Version of DKNYs Juicy Berry)  – Infused with wild berries; juicy and sweet, this wild berry and raspberry blend shares subtle notes of citrus.
Cucumber & Melon - Fruity and refreshing
Kiwi Watermelon – A fruity, refreshing summer scent. 
Monkey Farts (Banana & Pineapple) - Fruity and fun!  Top notes of pineapple middle notes of apples and ripe banana with a smooth vanilla base.
Nectarines & White Ginger - Spicy sweet tangerine and citrus notes this is the perfect scent to jump start your day.
Pomegranate Mango - Tropical and fruity with a sugary, sweet vanilla bean base note.  
Sweet Grape – A scent just like that purple scented marker we played with as kids.
Wild Berry – Sweet, juicy berries. 
Wild Berry Tulips (Our Version) – Sweet berries and floral.  A sweet, unique, fun scent.
HERBAL & SPA SCENTS
Blueberry Tea – a blend of sugary berries and freshly brewed floral tea. 
Coconut & Lemongrass – Creamy coconut blended with fresh lemongrass.
Eucalyptus & Spearmint – Fresh and minty; a perfect way to relax those overworked muscles after a hard day.
Green Tea - Fresh bergamot and lemon zest blended with green tea leaves, island blossoms and white musk.
Green Tea & Cucumber - Fresh cucumber blends with green tea to create a light and refreshing scent. 
Lavender (Bulgarian angustifolia) – Relaxing lavender essential oil with a fresh, relaxing lavender scent.
Lavender French (dentate) – More fragrant than therapeutic like other lavender essential oil varieties.
Lavender & Chamomile – Relaxing herbal, floral scent. 
Lavender & Coconut Milk – A mild, relaxing blend of lavender and coconut.
Lavender & Rose – A pleasant blend of lavender and rose makes for a very relaxing bath bomb.
Lavender & Vanilla – Relaxing lavender with sweet, creamy vanilla notes
Lavender & Tea Tree – Relaxing and anti-fungal essential oils. (great for stinky feet)
Lemon & Rose Water - Delicate rose petals and lemon tonic take center stage in this delightful scent, introducing fruity nuances of red currant and green apple wrapped in whispers of jasmine and agave.
Patchouli Essential Oil – Pogostemon Cablin Oil from Indonesia.
Peppermint & Rosemary – (Cooling; not recommended for Bath Bombs) Herbal and refreshing.  Great combination for a mature person with low blood pressure/poor circulation; circulation boosters.
Sea Kelp Spa - The fresh scent of ocean sea foam, shells and seaweed. Green top notes with fresh, floral ozone. Sea moss at the base of the fragrance.
Sea Salt - watery woody ocean breeze type that is paired with notes of lemon, lavender, and rose.
Sea Salt & Grapefruit - citrusy tropical herbaceous type with notes of lime, grapefruit, and peppermint.
Soothing Aloe & Green Tea – Cool soothing Aloe Vera with a zest of herbal green tea.
Spa – A relaxing herbal blend.
White Tea & Wild Orchids – A light white tea, floral fragrance.  
MASCULINE SCENTS
Aqua – A clean, ocean breeze with fresh ozone, melon, grapefruit and cassis, middle notes of lily, jasmine and violet and end notes of green moss, creamy Tonka bean and sandalwood.  
Burberry for men (Our Version) - A citrusy, woody, masculine fragrance with notes of lime, rose, and a woody base.
Cedar & Leather - A classic masculine cedar leather scent; a woody and amber type with a musky and tonka bean base note.
Dark Temptation (Our Version of Axe) –An irresistible chocolatey, masculine scent. Chocolate with notes of orange and white musk.  A rich masculine fragrance. Our version of Axe.
Northern Woods - Refreshing and masculine, this male fine fragrance type is woody and earthy with bursts of zesty citrus.
PARTY SCENTS
Cabernet & Neroli – One of our local favorites!  Fresh blend of Italian orange blossoms fused with the intoxicating scent of Cabernet.
Champagne – What better to celebrate with?
Champagne & Strawberries – Strawberries and bubbly champagne; definitely something to celebrate!
Malibu Rum Cupcakes – A sweet treat!
Merlot - Earthy and sweet. The fresh mango is balanced nicely with the woody notes.
Moscato – Fruity with notes of peach, pineapple and apple, with light floral middle notes, in a sugary vanilla base.
Napa Valley Wine Barrel - A fruity oaken wine barrel paired with sandalwood and spice notes create this exotic fragrance.
Peach Sangria – Yummy and peachy.  One of our best sellers.
Piña Colada – Creamy coconut infused with juicy pineapple. 
Raspberry Porter - A fresh and fruity berry wine type. Hints of sweet raspberry wine.
Sandalwood & Bourbon - A woody, amber-moss and spice masculine scent.
Sangria - Sangria with a holiday twist--complete with berry notes and rhubarb over a vanilla base.
Vintage Wine - A sparkling white wine type with top notes of peach, orange peel, lemon, strawberry and wild berry, middle notes of apple, pear, cyclamen, jasmine, white lily, cinnamon, and clove, with a woody, powdery raspberry and vanilla base note.
Wine by Candlelight – (Temporarily out of Stock) Wine by Candlelight
SWEET SCENTS
Banana Flambé - A sizzling banana flambé with melting vanilla ice cream is waiting for you.  Indulge in this banana nut type with notes of rum, pineapple, with a sugary base.

Birthday Cake - perfect blend of moist white cake and creamy vanilla frosting.
Blue Cotton Candy - A sugary, sweet scent with extra notes of strawberry, grape, banana and a sugary vanilla base note.
Brown Sugar & Fig (Our Version) – A warm, sweet and relaxing scent.

Candy Shoppe - Berry and bubblegum drenched in sweet sugar.
Cotton Candy - A sugary, sweet scent
Forever Red (Our Version of Bath and Body Works) - Sweet fruity notes of black currant, wild berry blend with feminine floral notes of jasmine, rose, and lily of the valley over a vanilla, raspberry base.
Fruit Loops (Our Version) - Just like the cereal! Sweet, fruity and fun.
Honey & Shea – Warm, sweet and inviting.
Honey Vanilla – Vanilla drizzled with honey.
Light Blue (Our Version of Dolce & Gabana) – A soft scent, notes of peach blossom and lemon, lavender and a steady amber base.
My Sweetie – A sweet scent for a young lady moreso than a small child
Orange Creamsickle – A sweet creamy orange scent reminiscent of the orange creamsickles we ate as kids.
Sugar Cookie  – Perfect for the cookie monster in your life.
Sweet on Paris (Our Version) – Sweet and sugary.  
You Go Girl! (Our Version of Tommy Girl)  A feminine and flirty scent.Circus Candy Peanuts – The scent itself is actually banana, but to me, the scent is exactly like those circus candy peanut candies I bought at the candy store as a child.
TROPICAL SCENTS
Bali Mango (Our Version) – (Temporarily out of stock) A Bali vacation of juicy pineapple, tropical berries and sweet sugarcane.  LB5 FP145 38BA
Blue Hawaii (Our Version) - Tropical coconut, a fruity, rum soaked mixed drink type with top notes of mango, and lime, middle notes of pineapple and jasmine complete with coconut and rum.
Butt Naked  (Our Version) – A sweet mixed fruity type with top notes of strawberry, coconut, and pineapple, middle notes of gardenia and pear, with a sugary vanilla base note.
Coconut & Lemongrass – Herbal yet tropical.
Coconut, Lime & Verbena – A citrusy type with fresh, clean notes of lime and coconut.
Coconut, Mango & Honey - A sweet piña colada type with sparkling notes of coconut, orange, melon, with an almond vanilla base.
Guava Colada (Our Version) - Sweet and rich, the Pacific Island blend is heady with passion fruit and tropical notes sprinkled in a sugary warm vanilla base. A Bath and Body Works Type.
Honolulu Sun (Our Version of Bath and Body Works) - Fresh, breezy and clean coconut with fresh citrus, pineapple, coconut and vanilla.
Mango & Beachwood - A sweet intense fruity type. Top notes of honeyed fruit and cream, middle notes of ginger and anise with a sugary vanilla base.  
Papaya - A fresh tropical fruity explosion of papaya, with a sweet powdered sugar base note.
Passion Fruit & Guava - a tropical fruity type with notes of peach, pear, and jasmine.
Sweet Coconut – A light, sweet coconut scent
Sweet Thang – A tropically sweet scent
Tahiti Sweetie (Our Version) - Tropical and fruity with top notes of fresh grapefruit and pear, middle notes of peach and blackcurrant with a soft musky base.
*None of our "Like" "Our Version Of" fragrances are manufactured, distributed, or affiliated with the name brands
Ingredients: Baking Soda, Citric Acid, Corn Starch, Epsom Salts,  Fragrance and/or Essential Oils chosen, Witch Hazel, Base Oil Chosen (Coconut or Jojoba), Colors Chosen Blue 1 Lake, Red 4 Lake, Yellow 5 Lake, Yellow 6 Lake or Standard Food Color, Meadow Foam Seed Oil, Sorbitan Oleate (Vegetable Based PEG Free Emulsifier), Vitamin E, Vitamin C, Grapefruit Seed Extract.