Have a special event and looking for something fun and different to do?
Hosting a bath bomb party can be fun!
Disposable table cloth available.
Gloves provided.
Mixing bowls and measuring spoons available but will need to be rinsed and dried prior to leaving party.
Each participant makes 4-6 standard sized bath bombs depending on how much powder they pack in the molds.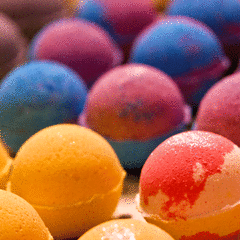 Powder is premixed to ensure greater success,
Participants choose from jojoba or coconut base oil in their bombs
12 scents are provided (You may choose the 12 scents brought if you choose)
Colors provided
Extra liquid ingredients provided for participants to add

Add-in botanicals provided
Optional glitter provided
Custom tags 6 per party participant provided,
mini rubber bands and plastic for wrapping provided
$29.95 per participant + $12 refundable deposit (upon return of bath bomb molds 24-72 hours after party) = $41.95 per prior to party production start. Bombs will need a place to cure in molds at party location for 24 hours in mold 48 hours in total, and can be returned undamaged within 72 hours for full deposit refund...cash or credit at the time of return, depending on how you initially paid. If you choose to keep the bath bomb molds, you may; there simply would not be a refund.
*Party locations further than 20 miles away from downtown Gilbert may be available, but will accrue additional fuel/mileage charge at .50 per mile for every mile over 20 miles round trip. i.e. 25 miles away would cost an additional $2.50 in fuel/mileage charge.
Contact us for further information.